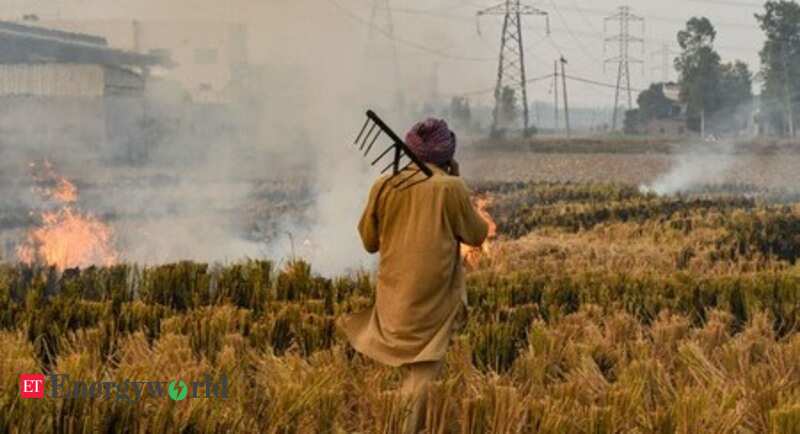 NEW DELHI: An analysis of images from four satellites and ground reports has shown thatstubble burningincreased by 36% this October compared with last year. This revelation came to the fore in a study of synergised fire counts in the northern plains by System of Air Quality and Weather Forecasting And Research (SAFAR), the forecasting body under Union ministry of earth sciences.
Data accessed by TOI showed that 23,236 farm fires took place in the neighbouring states in October 2019 and rose to 31,592 the same month this year. High fire counts were found to be not directly proportional to the deterioration of Delhi's air quality as it depended on meteorological factors, including wind speed and direction. Experts said that crop harvesting, which usually begins at the end of the second week of October, started in September or first week of October this year. The process normally ends by November-end. "Stubble burning started early this year due to early harvesting. There are reports of a bumper crop this year. As a result, there is a likelihood of extended crop harvesting and stubble burning," said a senior official at SAFAR.
LS Kurinji, research analyst, Council on Energy, Environment and Water (CEEW), said, "Many farmers adopted direct seeding technique in which the crop matures 8-10 days early. An analysis done by CEEW shows that the area under paddy cultivation is nearly 10% lower than 2018. If we study the data of farm fires of previous years, stubble burning was at its peak in the first week of November. However, stubble burning is likely to be spread out this year due to early harvesting, which may get over by the second week of November."
Aarti Khosla, director, Climate Trends, said, "The number of fire counts in the past three years rose to a peak of more than 5,000 in the first week of November. Even if we compare per day counts in October this year with the same day in 2019, the number would be more. It appears that farm fires went up this year due to less vigilance of officials on the ground. The administration seems occupied with Covid-19 management and enforcement against stubble burning might be weaker."
Though the number of crop residue fires had increased, experts said their high count was not directly affecting Delhi's air. "In 2019, over 4,000 farm fires were recorded on a single day in November, but their share in Delhi's PM2.5 was only 6% due to meteorological factors. Similarly, the contribution of stubble burning to Delhi's air rose to 35% on a day last year when the fire count was 2,700. Wind direction, speed and mixing layer height play an important role in the contribution of farm fires to Delhi's air quality," said the SAFAR official.
Follow and connect with us on , Facebook, Linkedin