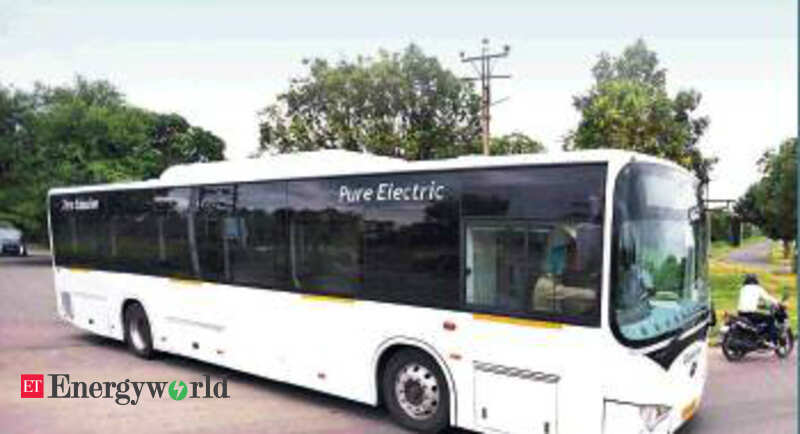 CHANDIGARH: Thecentral governmentwill grant a subsidy of Rs 50 lakh for eachelectric busof the 80 sanctioned for the city.
The department of heavy industries under the ministry of heavy industries and public enterprises is administering the Faster Adoption and Manufacturing of (Hybrid) and Electric Vehicles in India (FAME India) Scheme since April 2015 to promote adoption of electric and hybrid vehicles.
Phase II of FAME India Scheme is being implemented for three years from April 1, 2019, with a budget of Rs 10,000 crore. Last month, the government had announced 80 electric buses for Chandigarh.
A senior UT official said they will soon float a fresh tender to purchase the buses. The administration is already working on promoting hybrid and electric vehicles. Chandigarh has the highest density of vehicles in India with around 12 lakh registered vehicles, including both two-wheelers and four-wheelers. The number of vehicles per house on an average is two and has led to a sharp deterioration in quality of air.
To cut down the level of pollution, Chandigarh Transport Undertaking (CTU) will now induct these electric buses in its fleet. At present, around 3,000 e-rickshaws are plying in the city.
The electric buses project planned in 2016 got delayed owing to various reasons. In February this year a tender to purchase 40 electric buses was floated but it got delayed due to coronavirus.
Before that, an earlier tender process was scrapped after the officials found that the bid of running the buses at Rs 74 per km was too high. Transport department officials had visited Pune and found electric buses running there at Rs 56 per km. A suggestion was made in a report to cancel the tender. An agenda to float a fresh tender was approved and accordingly fresh tender was floated in February.
UT administrator V P Singh Badnore had approved the project in November 2016. The Chandigarh Transport Undertaking (CTU) had tried to put the project in motion but since the budgetary estimate was Rs 32 crore, the administration had sought financial support from the central government. The cost of each electric bus ranges between Rs 1.25 crore and Rs 1.40 crore.
They were planned to be bought under a central government scheme in which 60% of the cost would be borne by the ministry of heavy industries and public enterprises. Accordingly, the administration had written to the Union ministry of heavy industries and public enterprises, but the request was rejected. The administration had then decided to buy electric buses on its own to fight air pollution.
"The centre's latest announcement of 80 buses for Chandigarh has given a major boost to the administration and soon administration will purchase new buses," official added.
Follow and connect with us on , Facebook, Linkedin